Teen Ministry @ Christ Church
Connect | Teens works to reach middle and high school students with the love of Jesus. Everything we do is centered around helping our teens experience God's love in worship, develop relationships in small groups, and revive the world through service.
Our teens worship with their families on Sundays during our traditional or modern worship services. Many teens serve on teams as greeters, ushers, tech and more.
Our Connect | Teens ministry meets weekly during the school year on Wednesday evenings. Here's what that looks like:
5:30 PM: Doors Open
5:30-6:15 PM: Meal served (no cost)
6:15-7:15 PM: Age-appropriate programs
Your first visit
Here's what to expect when visiting Connect | Teens for the first time:
Upon checking in for the first time, we will ask for the following personal information (NOTE: We value your privacy and will not share this information with anyone):
Teen's name
Teen's birthdate
Home address
Phone number
Any special instructions (allergies, special needs)
Emergency Contact (parent/guardian)
Everyone at Connect | Teens checks-in and we all wear name tags. It's helpful for you if it's your first time and helps others feel more comfortable when it's their first time.
Ready to find out more?
How check-in works
Before Connect | Teens: Check-in using your phone number at the kiosk by the Guest Center or in Fellowship Hall (where the teens gather).
Enjoy the meal: After your teen is checked in, they (and you) can head down to Brandt Hall for our Wednesday night Connect @ Christ Church family meal. Meal times run from 5:30-6:15 each Wednesday during the school year. Adults then can head to their small groups, large groups or rehearsals while the teens will head to Fellowship Hall at 6:15 for Connect | Teens.
After Connect | Teens: Teen's time together ends at 7:15 PM and they can head home.
Meet our Associate Pastor
Helen Parks, an ordained Deacon, joined the Christ Church leadership team in 2017 as our Associate Pastor. Helen is passionate about all things teen - she's been a successful youth pastor for more than 25 years. In addition to serving as our Associate Pastor, Helen also works full-time with the Davenport Community School District as a Family Involvement Liaison.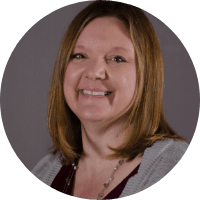 Got questions?
If you have further questions concerning our Connect | Teens experience or visiting Christ Church with teens, simply click the button below and get in touch with us!