Kids Ministry @ Christ Church
At Christ Church our Connect | Kids (infant through 6th grade) experience safe, age-appropriate environments where they learn about Jesus in a creative, fun, and relevant way.
We would love to see you and your family visit Connect | Kids @ Christ Church.
Connect | Kids' age ranges are:
Nursery: Infants & toddlers
Children's classes:
Preschool: 3-5
Elementary:
Sundays: Grades K-6
Wednesdays: Grades K-4
Tweens:
Wednesdays: Grades 5-6 (See Connect | Tweens page below)
In the nursery, our littlest tots will play with age-appropriate toys under the supervision of screened, trained volunteers.
For the preschool class, those kiddos will watch a very short video and respond with a short Bible activity. Then, they'll have plenty of time for free-play. This is held in Room 203 which shares a Dutch door and half-wall with the nursery. The lesson is geared for age 3-prek. Our nursery tots are invited to jump in and participate if they'd like. Lessons and supervision are provided by screened, trained volunteers.
Elementary-age students will enjoy a video lesson, games, crafts, and Bible time. Each month's theme helps connect kids to real-life Bible applications. Between activities, crafts, lessons, and stations, our kids engage in Bible moments that make a difference long-term in their lives.
*On Wednesday nights elementary students in grades 5 & 6 participate in Connect | Tweens (See Connect | Tweens page below).
Your first visit
Here's what to expect when visiting Connect | Kids for the first time:
Our Connect | Kids space is on the second level of the church. The main staircase is in the middle of the building (follow the wayfinding signs for Nursery/Classrooms). Connect | Kids has nursery and children's classes located inside the secure Connect | Kids area.
Upon checking in for the first time, we will ask for the following personal information (NOTE: We value your privacy and will not share this information with anyone):
Parent/guardian name(s)
Child's name
Child's birthdate
Home address
Phone number
Any special instructions (allergies, special needs) for your children
For an extra easy check-in, here's our form you can fill out before you arrive.
How check-in works
Before Service: You can check-in your child at any available kiosk (upstairs, before the secure Connect | Kids entrance). After finding your child's name in the database (by phone number), you and your child will be given matching name tags that are exclusive to your family and your visit. Your child will need to wear the name tag portion while you hold on to the matching pick-up tag.
After Service: After the service is complete, you will return to the Connect | Kids entrance and show your pick-up tag for your child to be released back to you. Should you lose your pick-up tag, be prepared to show a photo ID.
During Service: In the event that we need to contact you during the service, your child's identification code (the same one on your pick-up tag) will appear on the main screen. Please exit the worship space immediately and go to the Connect | Kids entrance.
Meet our Community Connections Pastor
Pastor Helen joined the Christ Church leadership team in 2017 and is passionate about helping our church connect with our community, and most importantly: you. Reach out to Pastor Helen today using the 'Contact Us' button below.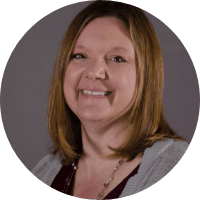 Got questions?
If you have further questions concerning our Connect | Kids experience or visiting Christ Church with children, simply click the button below and get in touch with us!